The Scheduler™ v11
Professional Appointment Scheduling
The demo version of The Scheduler™ v11 is available for Mac OSX 10.4.11 or higher and Windows XP SP3 and higher!
The Scheduler™ has gotten a major facelift and has been completely rewritten into FileMaker Pro 11! The best features are:
The same database as used in PracticeMaker® allowing unlimited patient/client records.
15 user definable fields for complex, multi-variant searches
Robust recall system with unlimited recall dates! (Prior to this version only three recall dates were allowed)
Unlimited scheduling providers/resources with totally individualized schedules
Side-by-Side view shows up to 5 different provider/resource schedules side-by-side
You can "build" your schedule months at a time or as needed with our "on the fly" appointments builder!
Messaging system that can remind you of things to do, store phone messages and more.
Integrated Phonebook stores 7 different data types (Contacts, Vendors, Employees, Facilities, Personnel, Providers and Pharmacies.
Comes loaded with nearly 50,000 Zip codes.
Here are several screen shots from the Appointments Module of The Scheduler™ (and PracticeMaker®). This is called the "Single Day" view.
Each appointment slot is its own database record and each day of the week has its own scrolling list.
The appointments on this screen are for the provider selected.
To change to a different provider simply select that provider from the listing in the lower right of the screen
To change to a different date, use the calendar in the upper right to change to a different month or year and simply click on that date.
Color coding tells you if a time slot is open (

green

), taken (

red

) or not available yet listed on the schedule (

yellow

).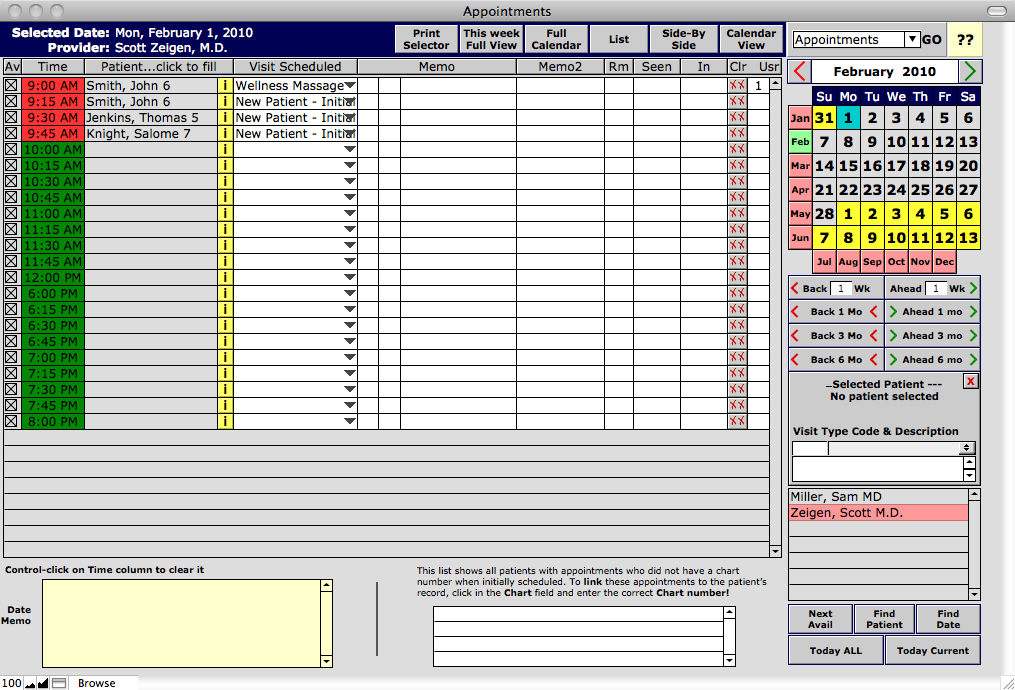 The calendar is a perpetual calendar that will be different for each user on the network. To see the details of an appointment all you do is click on the time and the information appears in the Appointment's Details section.
The screen below is called the Full Week view and shows a typical Monday to Friday schedule. There is another for view for Monday to Saturday and yet another for Sunday to Saturday (for you true workaholics)!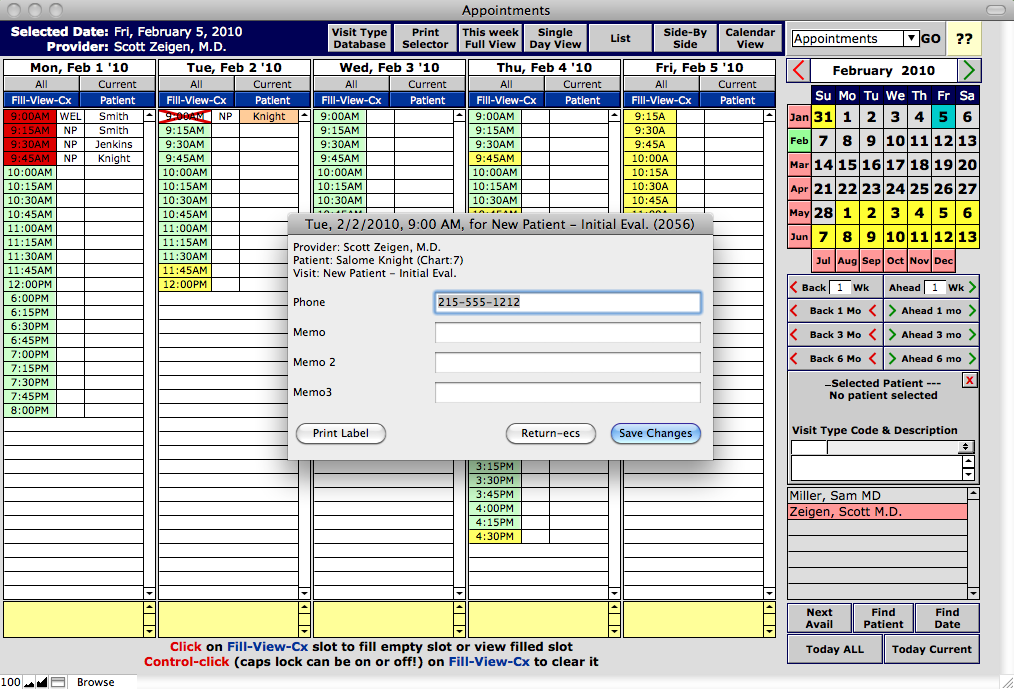 Other Features of The Scheduler™
You can use patient demographics, recall dates, birth dates and customizable fields to do custom searches and create mailing list, client recalls, and more! Below is a screen shot of the Patient (or Client) demographics screen. Notice the list that displays all this patient's visits that are currently in the Appointments module.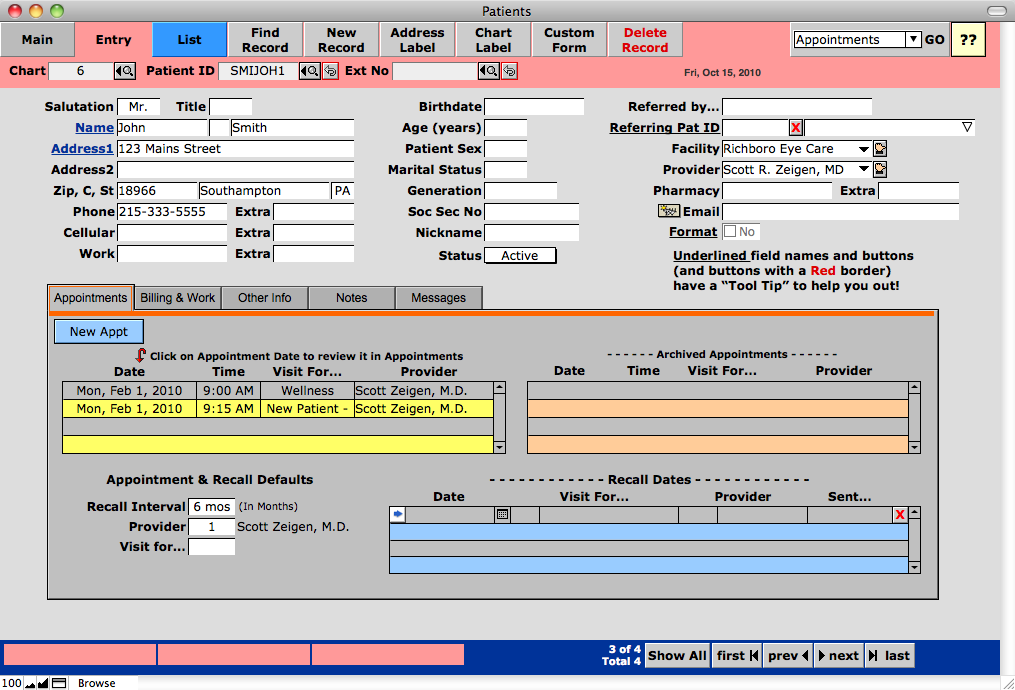 You can easily Cancel (reschedule or forget) or Save an appointment. If you are rescheduling an appointment the Refill Saved button re-enters all information from the last cancelled appointment.
The ability to duplicate appointments and then change date and time!
The ability to find empty appointments from one to 52 weeks into the future!
Prints your appointment schedule (one provider per page) using one of three different formats. With the Appointment scheduler that is part of PracticeMaker&reg this prints the current balance, co-pay requirement and any additional memo information for each patient.
Pricing
Please contact Medical Databases for current pricing of The Scheduler™ and our other software products!