Optical Shop Software™ v11
The software you've been waiting for at a price
you've been dreaming of... $1199
All current pricing is just below
Macintosh & Windows Demos Available for download
Features include:
Compatible with Macintosh OS 10.8 and higher
Compatible with Windows Windows 7, 8.1 (not tested on Windows 10)
Uses FileMaker Pro 13/14 for cross platform compatibility.
Includes 60 days of technical support for single workstation version (add $200 for networked version). Additional tech support can be purchased to extend support for additional years
Two hours of web-based training. Additional training can be purchased on an hourly basis (ask for quote)
Integrated electronic manual (page printing supported from your default brower)
Stores patient's contact lens information and lists all previous orders
Basic paperless eye exam record and user (see below)
Has add-on inventory module with pre-programmed laser barcode scanner (ask for quote)
Cost of Goods analysis
Administrator's screen allow easier changes and posting to invoices
Print image of NEW CMS-1500 (NPI compliant) available for online claim submission to the clearinghouse of your choice (add-on extra charge feature)
Pricing and Optional Items and Services
The Single User, non-networked software costs an amazing $1199!
The networkable version (up to 4 computers) costs $1499!
5 workstations or more, or if you want the iPad photo taking add-on, requires FileMaker Server (which allows for at least 100 current users)
Each computer will need a copy of FileMaker 13 ($299 per copy), or FileMaker 14. Click here for FileMaker 14 and FileMaker 14 Server pricing
DocuManager™ is our document management system. Using any scanner that can place a scanned document in a specific folder on your computer, you can save documents related to a patient to a secure location on your server computer.
FramesData CD to export the frame board into our database (read more below)
SPEX CD interface allows you to select which frame to import into our database
Inventory module with pre-programmed laser barcode reader to allow you to quickly scan current inventory and compare to expected counts in the inventory database.
Additional yearly technical support and update contracts are available (base price comes with 60 days)
Expanded technical support to include software, hardware and networking support
Additional web-based training
Basic eye care paperless records
Create unlimited templates (see a sample screen below)
Copy and change previous exams for the current exam
View historical data (IOP, Vision)in date-sorted scrollable lists.
Print examinations for patient chart
Comprehensive Patient Database
The Comprehensive Patient database (adapted from our award winning medical office software, PracticeMaker®) stores all important demographic information, from phone numbers to insurance information. Tabs organize information in concise sections! Notice the screen shot has patient count as over 40,000 records!
On the Optical Records tab you can see all previous eyeglass prescriptions. This helps to catch prescriber transcription errors and save you time and money before the wrong lenses get made!
The Billing & Credit tab shows the patient's insurance information and any

credit card information

(which has a built-in card number validator). In addition, there are fields for assigning discounts to the patient's orders, and these discounts can be automatically filled based on the selected insurance.
The Other Info tab has fields for additional contact information, and a field for saving the patient's digital photograph.

The Notes tab has 15 user definable fields, which can be used for internal marketing purposes. You could then search these fields for a custom mailing!

A Recall Date reminds patient's when to get their eyes examined and return to you for eyeglasses.

The Notes field section stores a private note in yellow. Below this the pop-up Alert field highlighted in peach. If anything is entered in this field, it appears in a pop-up dialog each time you find that patient! This is a great reminder system!

The Messages tab shows you a list of all messages and exams about the current patient.
The Contact Lens Records tab shows all contact lenses ever ordered for this patient!
The added Appointments Records allows you manage patient visit times and maintain an archive of all appointments over the past seven years.
With our DocuManger™ add on feature, you can now scan and store documents you have collected on your patient. These documents can be easily retrieved and printed. You an also access these documents using a standard web browser! (This is an older image)

Procedures (Products) Database
This database contains a record of each product you sell, with its Charge, Equivalent CPT code (for insurance claim submission on paper) and field for the SKU/UPC . In the Inventory section there is a field for your Cost, for accurate profits reports, and fields telling you if you can apply a Discount to an item or if it is Taxable.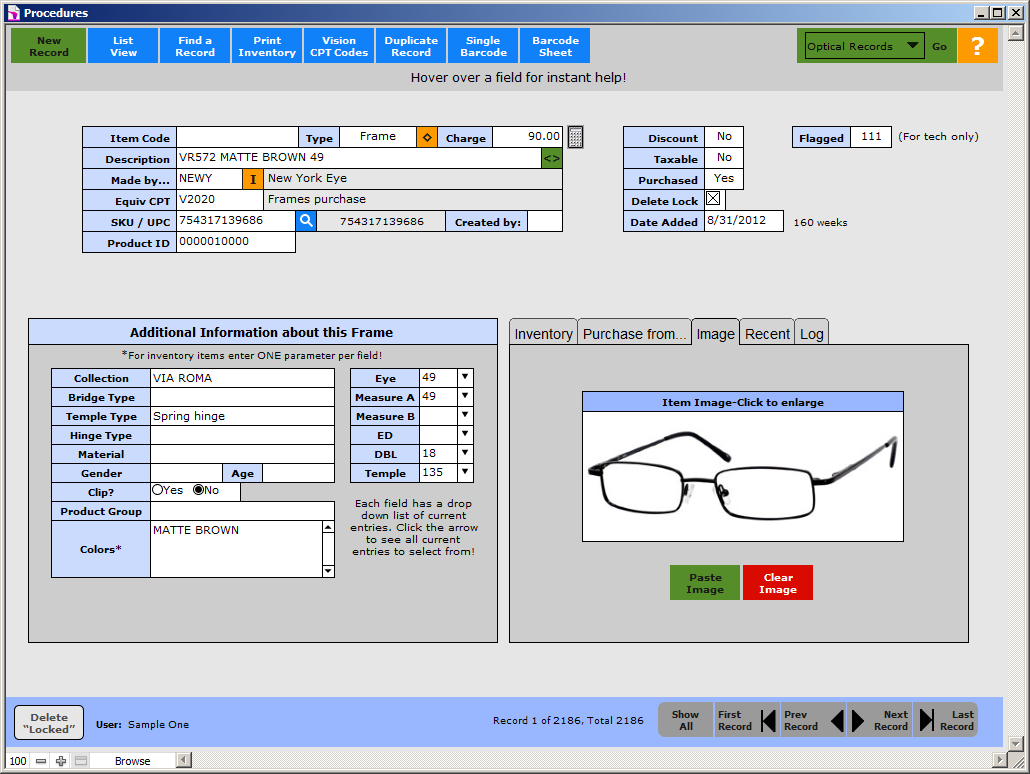 Specific fields for Frames (as shown above) and Lenses (material and type like single vision or progressive) store exact specifications so that order entry is streamlined and virtually error free. The example above shows a record with the frame's image which was copied from a website and pasted into the record using the

Paste Image

button.
Each item is linked to not only a manufacturer but the vendor you want to order it from. This is used for the order faxing system to automatically fax orders to your vendors and make your business run efficiently!
Inventory control is included and can be used with barcodes!
Optical Record (Order) Entry
The order entry screen now has a clean, single screen design. Past prescription can easily be listed by clicking the blue Past Rx's button in the middle of the screen! Unlimited orders are displayed on one screen. To add a Frame to the order click the green + icon just upper left of the ordered items list.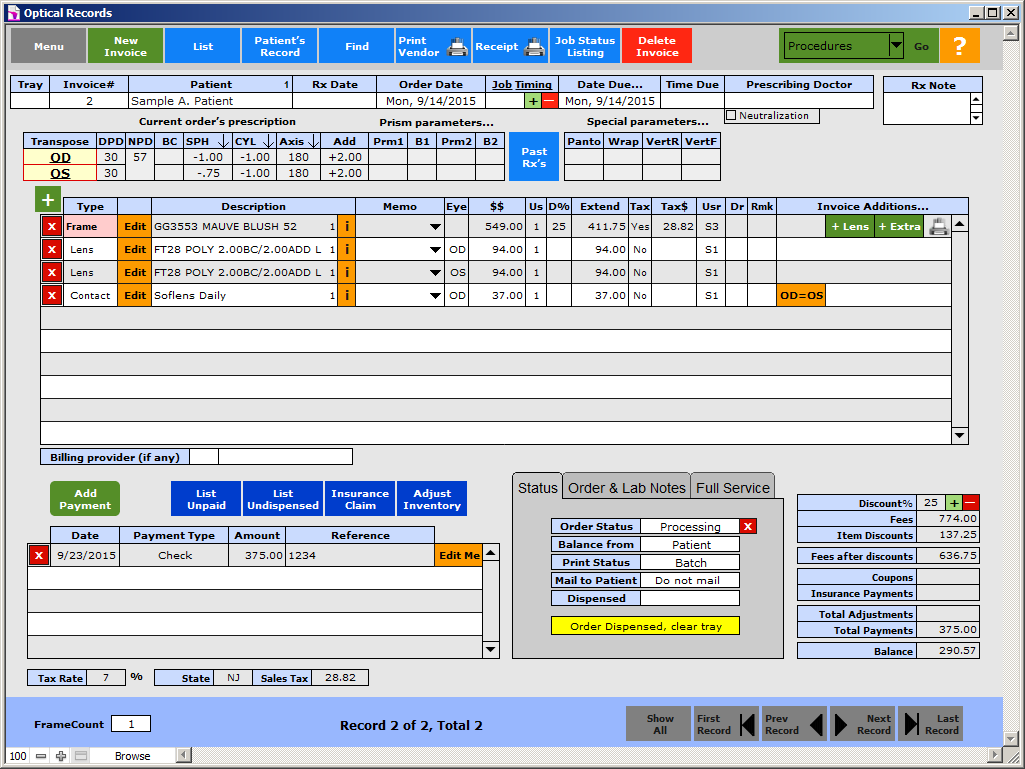 After adding a blank Frame entry, you can select a frame by simply clicking into the Code or UPC field and scanning ot typing in the code. You could also switch to the Previous Frame tab or to the Frame Selector tab to make a different choice.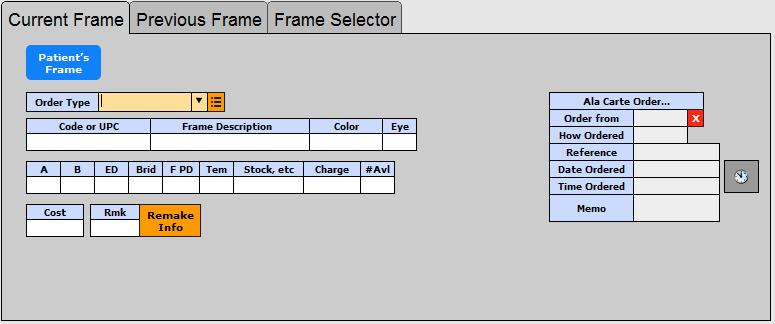 After a Frame item is complete, you can add a lens but just clicking the green +Lens icon on the same row. When you do the following screen pops up. Just as with ordering a Frame you have three methods of selecting a lens.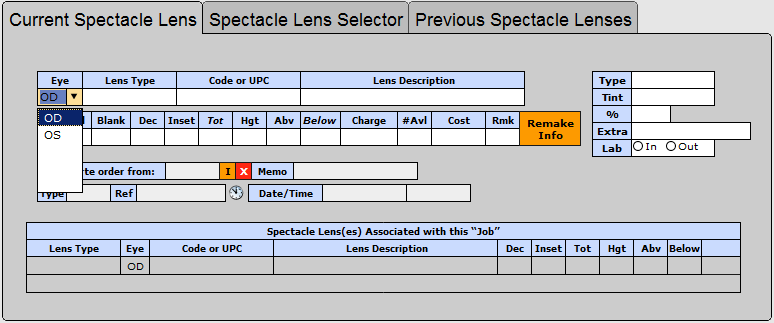 Many lens measurements, such as "Total Decentration", Above and Below, are automatically calculated for you depending on the patient's PD measurements, the Frame PD (A measure plus DBL) and Height.
Tinting is easily added to the order and you decide if you or the outside lab will do it.

If the Right lens is the same as the Left lens, just click the OD=OS button on the Frame line (here not seen because both lens have already been added to the order.

To add a payment to the order click the Add Payment button and complete the fields.

This gives you a brief overview of how an order is started and a payment posted.

Printing Reports
There are many reports available in Optical Shop Software™2010. Because of our built in security system, only certain users are capable of printing reports and/or printing vendor orders. The list of reports is as follows: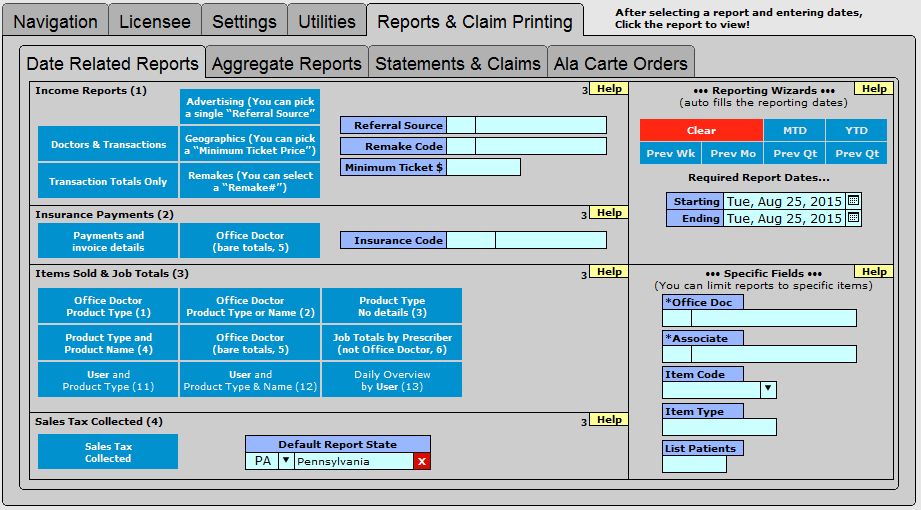 Daily Report: This creates a report of all goods sold and payments posted for a particular day. This report can show just one office prescriber or all providers in one report. For this report you need to select which provider (or use all) and the date.
Accounts Receivable: This creates one of several different reports based on the presets you enter on screen.
Vendor Orders: This creates and either prints or faxes your daily orders to your vendors. If your software is enabled to fax, then either choice is available, otherwise only the Print options functions.
Income Report: This report shows your income and profits for a specified time period. This report can summarize just one provider, or show all combined activity. There are report Wizards that can help you clear or fill in your date fields.
Insurance Payments: This report lists all payments flagged as "Insurance" and sorts them by the Insurance assigned to an invoice. You can select one Insurance.
Items Sold: This report gives you details on how many of each item or service was sold during a specified time period.
Job Totals: This report tallies up all the jobs and sorts them by Prescriber for the specified time period
Patient Statements: This will print all patient statements that are flagged for printing. An invoice is "flagged" when the Print Status is set to "Batch".
Paper Claims: This will print all insurance claims that are flagged for printing. An invoice is "flagged" when the Print Status is set to "Batch".
Cost of Goods: This is the newest report to our system. It shows you exactly what the value of your inventory is at that moment in time. The report can be for all items or you can select just one (such as frames or lenses)!
FramesCD Link now available
Optical Shop Software™ now has the ability to import the contents of your FramesData CD "Frame board" into our Procedures module. This means not having to type in all the specifications, including the UPC, of the frames you want to sell. This feature will save you hours of data entry. This feature is available for a one time fee and does require a minimal amount of user setup.