The Dispenser™13
Prescription Labeling and Dispensing Software
using your own computer and medications
The Dispenser™13 is desktop computer software — not web based — which means you control the data — specifically designed for the labeling and dispensing of prescription pharmaceutical agents for appropriately licensed health professionals (physicians, nurse practitioners, respiratory therapists). You supply the medications and our software creates the label and monitors your inventory. You do not purchase the medications from us!
The Dispenser™ runs on Windows 7 SP1 and higher and Macintosh 10.8 and higher computers. Labels are printed with a Dymo Labelwriter 400 or higher label printer and the software comes pre-formatted for three different label sizes to accommodate different prescription packaging. The "Demo" and "Single User" versions only print to one size label, that being the Dymo 30258 Diskette label (2-1/8" x 2-3/4"). The image below shows the patient entry screen. While the second image shows the prescription entry screen.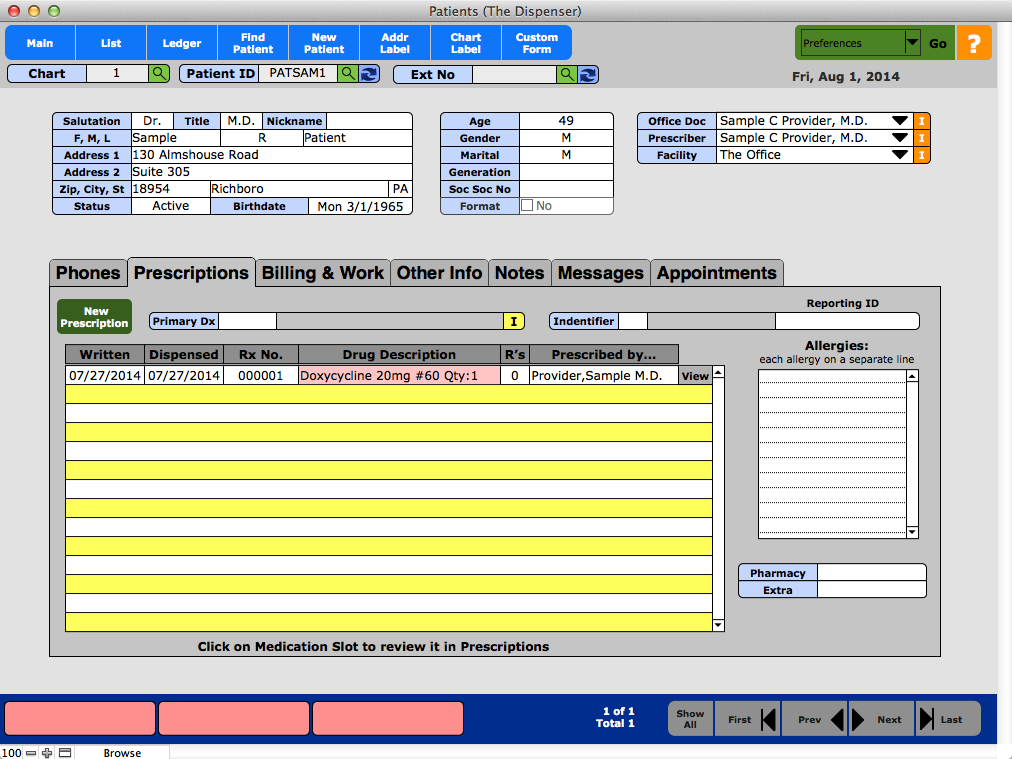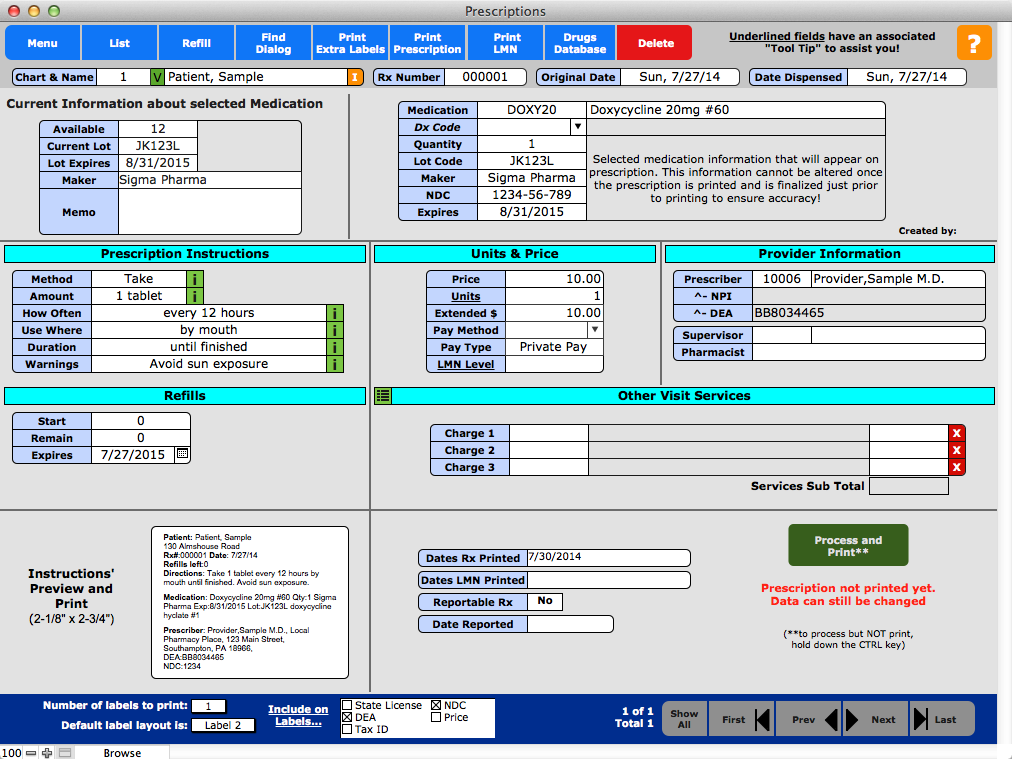 Features include
The Patient database is derived from PracticeMaker®, our flagship, awarding winning medical office management software.
The integrated Help database assists with understanding how to use the software. There is also an electronic manual that uses FileMaker's "web viewer" and your default browser. In addition, we will give you one free hour of online training (using iChat, Join.me, LogMeIn) to assist you in getting the software set up properly (a $225 value).
The user decides, using preset values, how many labels are printed for each prescription before inventory is debited. One label could go on the medication, one on the chart (which the patient can sign) and a third on the invoice. After a prescription is printed for the first time, inventory is debited (or not depending on your "password protected" preference).
Additional labels can be printed without affecting inventory!
The Dispenser™13 maintains strict inventory control and does not allow low level passwords to alter inventory levels.
There are a variety of reports available, including inventory, patient prescription ledgers, drugs dispensed by date and simple profit analysis. The current "on hand inventory" list can be used to account for medications that must be counted each day, such as narcotics.
The Dispenser™ can be a standalone product using a "runtime" version of FileMaker 13, or you can get a version that requires FileMaker 13, thus allowing customization and file sharing.

Add-on Features
The same Appointment Scheduler that is part of PracticeMaker® and The Scheduler™ can now be added to The Dispenser™ giving our software even more flexibility. This feature costs $600 extra.
To insure that prescriptions are printed to your LabelWriter and reports to your default full-page printer, out SetPrinter add-on feature will automatically switch your computer to the proper printer before printing and then back to the default printer ready for standard printing once again.

For those practices that dispense controlled medications, such as weight loss offices or pain management, The Dispenser™13 can create the upload file many states requires using the ASAP version 4.x. In Florida this is the E-FORCSE program and using version 4.1. In South Carolina as of January 2014 they use version 4.2. The cost for this feature is a one time fee of $599, and includes all testing and any additional programming needed for compliance (a full version of FileMaker Pro 13/14 is required in order to test and adapt the software to your specific environment).

Available Demos for Mac and PC
Use our contact form to request a demo. We will need to know if it is for Windows or Mac, and we will email you a link where you can download the demo. The demo is about 40MB. The manual is a separate download and link. We will only supply demos to email within the United States.
Pricing and Support
The pricing of The Dispenser™13 is $850 for the Single User version, which does not require FileMaker Pro. If you want custom work done to the system, or want to also use the Appointment Scheduler, you will be to purchase the multi-user version, which still costs only $850 but requires FileMaker Pro 13+ for each computer which can be purchased separately from medDB, LLC or directly from FileMaker,Inc.

The peer-to-peer networkable version costs $150 additional for up to 4 total computers. If you need more than 4 computers sharing the program, FileMaker Pro Server is required. Separate set-up fees do able to this more elaborate setup. Ask for a quote.
The software includes 60 days of technical support and on hour of training. After 60 days, software support (with minor upgrades) is $400 per year with unlimited toll-free and email support for single-users and $700 for networked versions.
Those electing not to purchase a support contract will be billed at a rate of $225/hour to a signed charge card agreement on file in 15 minute increments for support.